OPENING HOURS
Monday - Saturday
09:00 hrs - 17:00 hrs
WELCOME TO

Sarala Birla University
There is no design without discipline. There is no discipline without intelligence.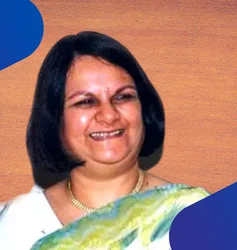 Congratulations to all the Placed Students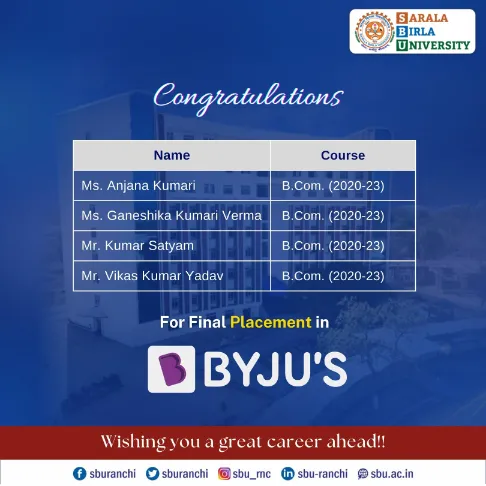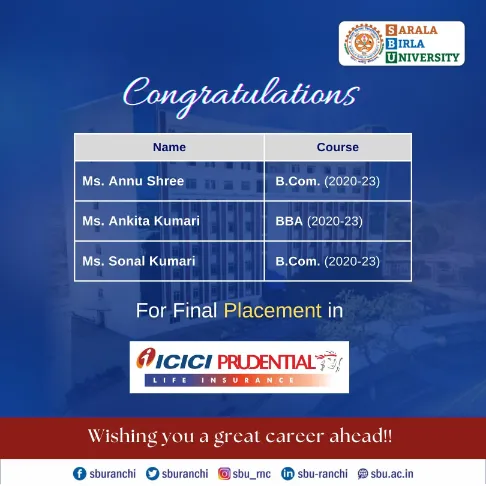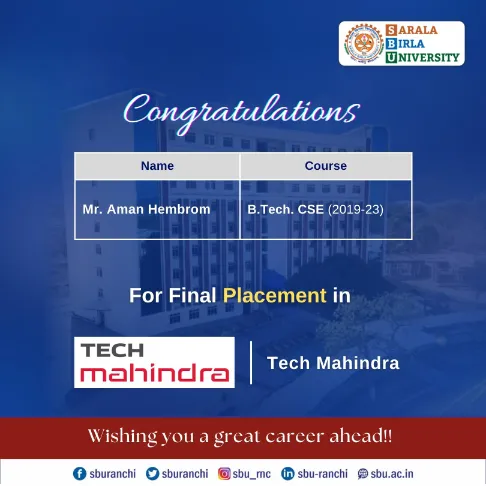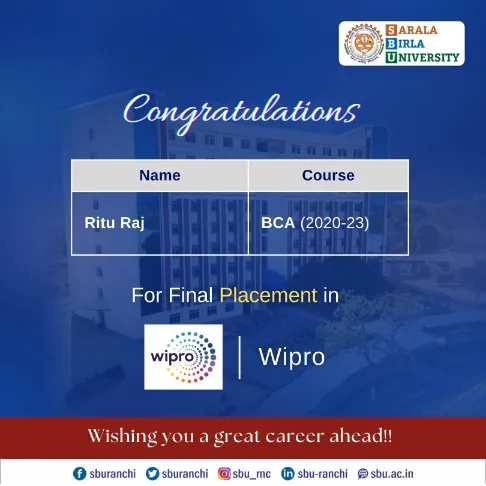 Faculty of Engineering & Computer Sciences
Faculty of Commerce & Business Management
Faculty of Humanities & Linguistics
Faculty of Nursing, Public Health and Clinical Technology
WHY SBU
Transforming Global Leaders for Social and Economic Change
Students Speak
I consider myself lucky to be a part of this family. The knowledge of Yoga is imparted to us in an environment akin to an Ashram. Our theory and practical classes are held at the bank of a pond under a mango tree. We cannot ask for a better atmosphere for our kind of discipline. Other than the natural study area, our concrete infrastructure is equally good. Our Naturopathy lab is equipped with latest state of art equipments for Panchkarma and natural treatment. Our faculty are proficient and renowned in their specialised fields. I know I am at the right place and I am headed in the right direction.
I am Anjali Agrawal pursuing B.Tech in Computer Science and Engineering.SBU is the university which focuses student overall development. The faculty members of our university are excellent. Time to time various activities and seminars are organized in our university for growth & development. We are also taken for industrial visits to have practical knowledge and exposure. I am proud to be a part of SBU and suggest you to join SBU for your bright future.
When I first entered in the SBU campus, I found it student-centric with great academic infrastructure like computer labs, cafeteria, library, indoor-outdoor games, hostel and beautiful surroundings. The university provided me a platform to showcase my talent and enhance my potential. The faculty members at SBU are also very supportive and experienced.
"Sarala Birla University name is synonymous with high quality education. You will learn from industry leaders and network with the top professionals, projecting a lifetime of learning and leadership in the field". The university is helping community members and students break into the world of SBU's entrepreneurial ecosystem by introducing them to the word of start-ups, management, humanities and career acceleration programs. The university is dedicated to attract brilliant students, highly qualified faculty and staff with a wide range of backgrounds, ideas and viewpoints.
I am Raman Kr. Choudhary pursuing B. Tech in Computer Science and Engineering. SBU is a dynamic, fast-growing educational institution only of its kind in entire Jharkhand. With state-of-the-art resources and well-furnished laboratories within a strong community environment while been given the wider opportunities to the students with excellent faculties. Several seminars as well as co-curricular activities are organized for the development of students. Other than academic knowledge, industrial visits are arranged to gain practical knowledge. I am proud to be a part of SBU.
The Bewitching campus of Sarala Birla University, owns distinctive facilities which includes, a wide infrastructure, elongated playground, cafeteria & much more to explore. The various courses available here makes it possible for the students to experience the best of knowledge in line with their interest. The Library is the best place to study in solely silent scenario. Here at SBU, we get verities of books of every department including Management, Engineering, IT, Yoga & Naturopathy. Labs are equipped with the most updated technologies. At last, as a student of Sarala Birla University, it has always been a great experience to be a part of this Birla Legacy & for better tomorrow.
Sarala Birla University is situated in Birla Knowledge city which is built in over 100 acres of land. The University is growing gradually with beautiful infra. SBU has professionally qualified and experienced faculty drawn from various streams. Many faculty members of the university have authorised books of repute and published research papers in various journals. For students SBU provides platform for overall development of students of university in various cells, committee's and clubs mentored by the faculty.
Sarala Birla University is UGC approved private university in Ranchi. It does not limit itself in the education only but also endeavors to promote the study of social justice, secularism and democratic way of life, national integrity, international understanding and scientific approach to all problems. Faculty of the university is different from all other universities and colleges. All the faculties are caring as well as guiding. They are always ready to clear our doubts whenever we need. Everyone is cooperative and understanding. All the faculties identify the students with different talents and help to prove themselves. They provide motivation and helps in overcoming their fear and exposing their talents.