Choice Based Credit System
The University Grant Commission shifted from traditional marks and percentage system and introduced the Choice-Based Credit System. It is a student-centric course which allows students to choose their subjects. The basic motive is to expand academic quality in all aspects, right from the curriculum to the learning-teaching process to examination and evaluation systems.
The students have a choice to choose from the prescribed courses, which are referred as core, elective or minor or soft skill courses and they can learn at their own pace and the entire assessment is graded-based on a credit system. The basic idea is to look into the needs of the students so as to keep up-to-date with development of higher education in India and abroad.
The CBCS system provides flexibility in preparing the curriculum and granting credits based on the course intensity and teaching hours. This helps students to pursue courses of their choice, study at their own pace, learn extra courses and acquire more than the required credits.
CBCS emphasizes on group discussions, assignments, class activities, and internal examinations thus creating a beneficial education environment.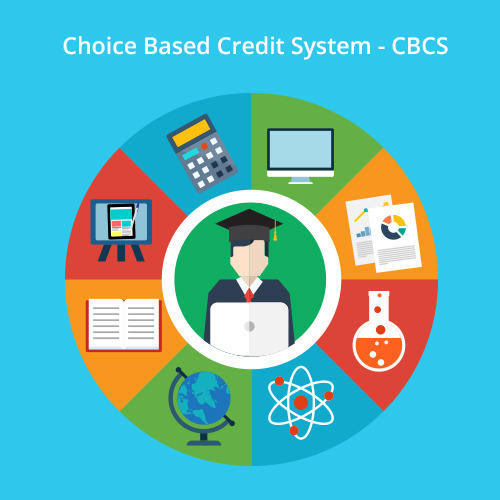 Students have 3 types of courses:
Core course: Students need to choose a core subject to complete the credit requirement.
Elective Course: These subjects have more generic content and aim to increase the students' skill. They expose the student to subjects which are not in their curriculum.
Foundation: They are value-based subjects that lead to knowledge enhancement.
The amount of credits assigned for core, elective, and foundation courses is different. CBCS works on the simple principle of the choice being in students' hand. University provide subject options to students. Students can choose subjects according to their interests and credits required for that particular semester.
Benefits of CBCS System:
CBCS allows students to choose subjects that they find interesting. The credit system allows a student to study what he/ she prefers in his/ her own sequence as per interests.
Students can take up varied subject combinations like physics-accounts, English-chemistry, economics-biology, etcwith the conventional education system this was not possible.
CBCS system prepares students for the future. Industries want employees who have multidisciplinary knowledge. Thus, CBCS imparts job-oriented skills.
As students choose their own subjects they learn to make decisions which are beneficial for them. This helps students to become self-reliant at an early age.
Student can opt for one part of the course in one institute and the other part in another institute. This will help in making a clear choice between good and bad colleges/institutes.
The students have more scope to enhance their skills and more scope of taking up projects and assignments, vocational training, including entrepreneurship.
As the grading system is the same across all universities in India, a student can easily transfer from one university to the other. Students' pan-India have a uniform course.
If a student falls sick or is unable to cope they can choose fewer subjects and earn less credit in one semester. They can then compensate for the lost credits in the next semester.
CBCS takes Indian education on par with global standards.