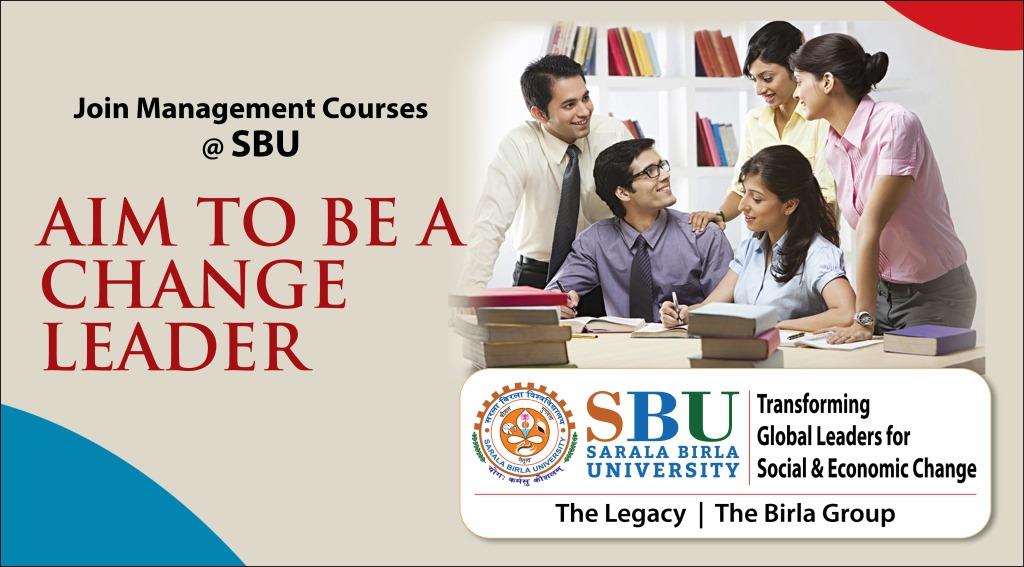 The MBA program with 360-degree education....
360-degree education sets it apart. The course of MBA at SBU, Ranchi is different because of its unique approach. While most institutes focus on various other aspects to attract students, SBU, Ranchi aims at creating a knowledge economy with integration of academia and industry to nurture global leaders who are closely connected to the roots and are creative, dynamic and enlightened. The importance of 360-degree education lies in making students professionals fit for global responsibilities in various fields. Engaging, collaborative, immersive and experiential learning have changed the trend. Surroundings and experiences have a huge impact on learning. A sprawling campus with a green environment also has a constructive role to play in the educational process.
Here, the environment promotes collaboration and flexibility that, stimulates creativity and independent thinking. New ideas and concepts are incubated and education uses experiences and senses effectively. Business minds have to be agile in decision- making in order to become successful leaders.
Becoming employable is one of the prime objectives to begin a successful career. 360-degree education makes candidates industry-ready. They would be able to seek placement in top-notch companies and would get attractive offers from multiple industries both in India and abroad.
The Career Services Team at SBU facilitates the placement of passing out students besides collaborating with leading organizations and institutions in setting up internship and training programs. There is a focused approach of the university towards persistent and multi-dimensional training of students – in sync with the industry expectations. The Career Services Team aims at collaborative programs and establishment of industry-sponsored labs for hands-on-learning.
The Faculty of Management collaborates with reputed national and international institutions and industry. It encourages students to organize and participate in co- curricular and extra-curricular activities. The Faculty regularly organizes workshops, symposium, conferences, MDPs and FDPs for the students, faculty members and industry participants. It encourages students and members of faculty to participate in external events as well.
SBU aims to expand the scope of application of management concepts to infrastructural, institutional, Environmental & Developmental services, Entrepreneurship & emerging areas like Business Incubation, University-Industry Partnership, research, training, and consultancy, to enhance quality research skills, to promote the development of socio-economically sensitive, responsible and effective managers and management academics of tomorrow. A university dedicated to transforming society with committed leadership is the place to go in order to acquire the requisite skills to become an effective instrument of change.
All you need in order to become eligible to apply is a bachelor's degree in any stream from any statutory university approved by UGC with minimum 55% marks (45% in case of SC/ST category). Applicants who are in the final year of Bachelor degree can also apply.
Highly acclaimed faculty members and World-class infrastructure are other major strengths. A well-stocked library for curious minds is a major attraction. All the faculty members have the requisite qualifications and industry as well as teaching experience. As a result, they are able to mould students with rich practical inputs. Guest faculty and industry stalwarts come to the university to motivate and inspire students and impart valuable lessons in management.
SBU, Ranchi offers a vibrant campus life. It is a safe and secure campus where students find a peaceful environment to live. Students can pursue their passions and take up recreational and sports facilities. Whether a student is a beginner or has reached an advanced level, he finds company and enjoys bonding and camaraderie. The cultural activities contribute to the 360-degree education the university aims to offer. Students can give expression to their artistic and cultural talents. It provides comfortable accommodation and the hostel facilities are located close to the academic area. It provides tasty nutritious mouth-watering food.
A visit to the verdant campus gives a real experience of what the university days are likely to be. Experience it yourself and feel connected to groom your career in one of the best universities set up in recent years in India.