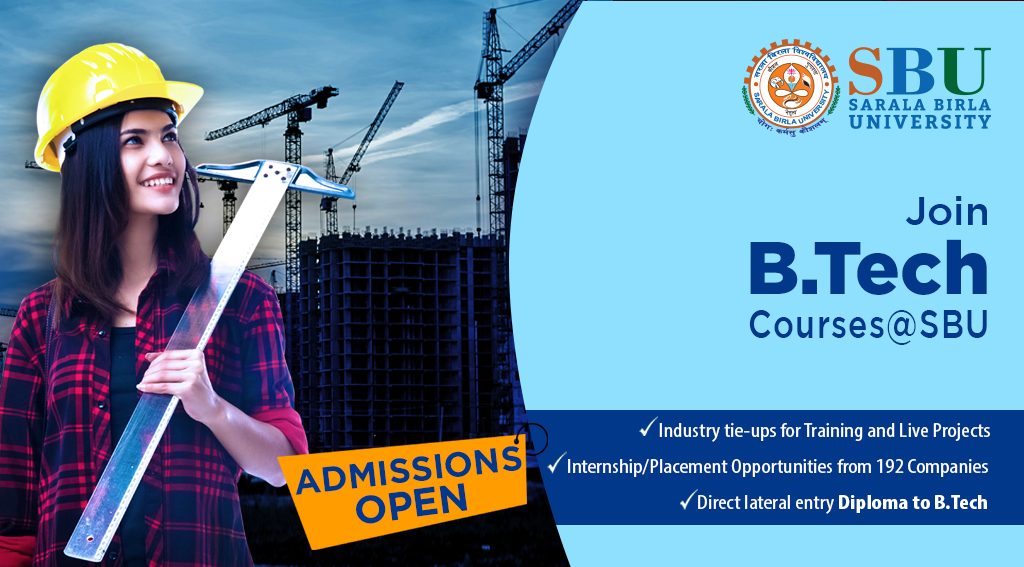 ENGINEER YOUR SUCCESS
Enroll for B.Tech @SBU
Engineering is an evolving stream. It is one of the most popular professional fields with impact on our daily lives because of advanced technological applications. Industry-fit candidates with rich practical knowledge secure coveted jobs. There is a steady demand for quality engineers in multiple industries year after year. What matters more is the university from where the candidates have acquired their B.Tech degree. Hence, Sarala Birla University, Ranchi is where the future of engineering education lies. 360-degree education in the field of engineering is what students need to excel. Pursue B.Tech course from SBU, Ranchi and experience the host of advantages. The university has entered the academic ecosystem with a strong commitment to transform lives and make students globally competitive.
An academically dynamic knowledge hub enhances the learning experience. It nurtures students to become the best through rigorous training programs. SBU appeals to students because it provides them with a serene and secure environment to boost learning prospects.
Sarala Birla University has focused on the best infrastructure. Spacious seminar rooms, well-equipped lab facilities, well-stocked libraries, and well-maintained sports complex are the visible strengths. The infrastructure facilities make an impact by providing essential tools to explore the diverse possibilities. The surrounding social and cultural atmosphere improves the learning experience.
Sarala Birla University has hired the finest academic minds from around the country. Learning becomes easy as the faculty endowed with rich experience simplifies the complex subject matters. Besides, they instill confidence and inspire students to showcase their best. Faculty members with rich exposure in teaching engineering subjects offer valuable insights into how the engineering world progresses. There is a strong link between the academic and the industry as the education is imparted with the objective of making candidates industry- ready.
Students at SBU enjoy a rich campus life. As a university with a strong reputation to preserve, it pays meticulous attention to make sure students get the best facilities. Hostel option for outstation students, cafeteria with healthy food, on- campus ATM services, Wi-fi campus and transportation facilities ensure a smooth learning experience. Students are able to develop their talents and get the platform to showcase it as well.
B.Tech degree from SBU offers attractive placement opportunities. The nurtured skill-set and exposure gathered makes them think differently and also prepares them to tackle industry-specific challenges. Sarala Birla University is counted as a reliable place to seek genuine talent.
Sarala Birla University has all the mandatory approvals in place. The affiliation and recognition of the university and its courses is already in place and this makes the future of students secure and safe. The curriculum is upgraded to ensure it is advanced to offer the best to the students. This gives a winning edge in the competitive job market as their learning level is superior.
Seminars and co-curricular activities mould beautiful minds. The sprawling campus is abuzz with intellectually stimulating activities that make students well- trained in the domain of engineering. Sarala Birla University has designed the curriculum with a practical approach. The concepts carry a practical edge to make students learn with ease. Students are trained to exercise the concepts and create day-to-day advanced appliances and move ahead with the power of innovation.
SBU offers leadership opportunities to students. It creates a positive and vibrant atmosphere on the campus to make students self-reliant, independent, socially active and responsive. It organizes workshops to bring interactive sessions and advanced learning. Besides, it transcends the limits of the syllabus and takes a big leap to ensure the personality development of its students.
Sarala Birla University conducts educational tours to ensure all-round development of students. Visits to a particular industry prove fruitful in terms of growth, understanding and development. The university is recognised for the research undertaken by its students and teachers. Through various research programs, significant educational advancement is achieved. Besides, there is a scope for further development.
B. Tech degree from Sarala Birla University opens the gateway to success for engineering graduates. For industry-ready professionals trained to shoulder key responsibilities from the beginning, there are ample opportunities to apply their skills and further enhance their engineering knowledge through innovative applications. Sarala Birla University has the right credentials to attract engineering students and make their future bright. Visit the verdant campus to get an idea of the vibrant atmosphere conducive to advanced learning.