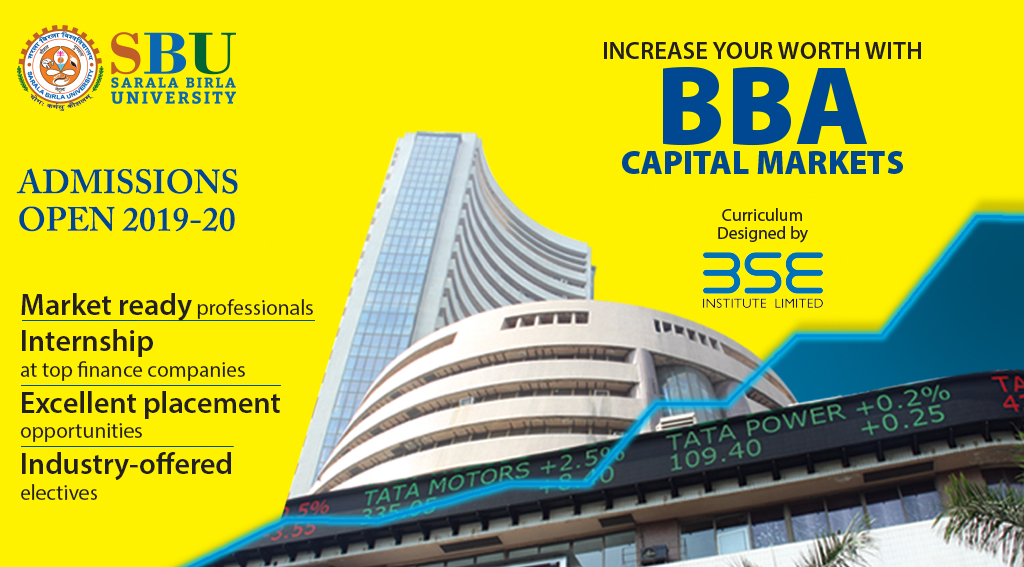 BBA in Capital Markets
Make your career bullish Enroll for BBA in Capital Markets
Pursue the BBA course in Capital Markets offered by Sarala Birla University, Ranchi. Realise your long-cherished dream of entering the world of stocks/ shares, creating wealth and managing portfolios on behalf of clients. The course, designed with inputs from BSE Institute Ltd, meets the industry needs. With 360- degree education making candidates market ready for managerial roles, this degree course is perfect for those who are looking for a promising career in the capital markets. According to current survey 79% of populations are unaware of basic concepts in finance. And through capital market programme we the depth knowledge of financial markets. Your career takes a bullish turn when you get a thorough understanding of market operations, dealing in financial instruments and long- term securities.
In order to secure admission in Sarala Birla University, candidates need to have minimum 50 % (45% in case of SC/ST category) marks in 10+2 (any stream) with English as a subject in the qualifying examination. Students appearing for 10+2 level are also eligible to apply for the approved course. It's fully practical oriented program.
Under the expert guidance of industry stalwarts and highly experienced faculty, students get to learn the skills and nitty-gritty of the financial world. They become productive for the finance industry with the BBA degree and create wealth with their experience in handling the managerial duties.
As the curriculum is designed in tie-up with the BSE Institute Ltd, there is a confirmation with what the industry needs from professionals today. The current expectations are met when the students passing out of the university possess the latest knowledge about market, when they know they have to play a pivotal role in further strengthening the industry with their skill set. According to projected HR requirement till 2022 there are approx 5000+ opening in financial sector year on year.
The BBA course provides comprehensive training in the field of capital markets by way of live projects, presentations, industry visits, and practical training. As students acquire the edge of employability during the course period without incurring an additional cost, it delivers a big advantage to students who learn a lot about the practical world of capital markets and get the necessary confidence to venture on their own.
The BBA course provides a solid base for learning the basics of major finance & management areas and discipline. Industry certifications boost career prospects. These are widely recognised as an essential criterion for employment in capital markets. Hands-on training on securities trading is another key feature that bolsters prospects. Multiple options designed according to the competencies of students prepare them for specific sectors or job profiles as per industry needs. In addition to the core curriculum, subjects like communication, analytical skills, and soft skills enhance personality and employability of candidates.
Armed with a BBA degree in Capital Markets from Sarala Birla University, Ranchi students would be able to secure a stable career in India, with attractive salary packages from leading firms in BFSI sector – Banking, Financial, Services & Insurance. In case they want to be entrepreneurial, they can set up their own advisory and portfolio management business. Whatever be the career goals, acquire the BBA degree in Capital Markets from Sarala Birla University first. Instead of short-term courses, pursue a full-fledged degree course and begin your early success in the Capital Markets that appear so complex to those who enter the field without a solid educational background and research fundamentals in this domain.
At SBU we have ensured that our students are provided with the best of facilities. Our industry tie-ups for training and live projects have been designed, keeping the interests of our students in mind. With internships and placement opportunities from hundreds of companies, SBU is all set to give its students the best of the opportunities.
SBU, Ranchi offers a vibrant campus life. It is a safe and secure campus where students find a peaceful environment to live. Students can pursue their passions and take up recreational and sports facilities. Whether a student is a beginner or has reached an advanced level, he finds company and enjoys bonding and camaraderie. The cultural activities contribute to the 360-degree education the university aims to offer. Students can give expression to their artistic and cultural talents. It provides comfortable accommodation and the hostel facilities are located close to the academic area. It provides tasty nutritious mouth-watering food.
A visit to the verdant campus gives a real experience of what the university days are likely to be. Experience it yourself and feel connected to groom your career in one of the best universities set up in recent years in India.